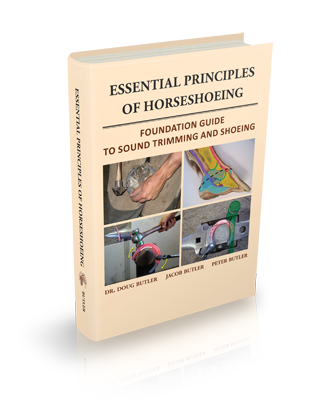 Finally…a cutting-edge "how-to" manual for the modern-day horse owner and professional! 
Essential Principles of Horseshoeing is a new, interactive resource perfect for farriers, professionals and anyone who cares about the health and well-being of their horse.
Described as a "recipe for success," this unique book helps you solve problems & increase confidence with ease of finding the right information for the situation.  Color photos, drawings & QR codes in the book take you to video demonstrations with live horses!  Clear, concise, "how-to" steps lead you to action in understanding anatomy, balance, conformation …and much more.  For only the price of one farrier visit, this book is a life-time investment!
Now available in print and audio format individually or as a COMBO!  Use the Essential Principles of Horseshoeing Combo for learning that transcends the classroom experience!
Whether you are a beginner, do-it-yourselfer, veterinarian or expert farrier seeking to perfect your craft…
…this book equips individuals and horse owners of all backgrounds with the best techniques to accurately trim and shoe horses.   No more flipping through long, dry text books with too many words and not enough demonstration on how to get the job done!  Instead, theEssential Principles of Horseshoeing book and corresponding audio CDs shows you how to easily master the principles of soundness, lameness prevention and humane horse foot care from the comfort of your home, vehicle or office!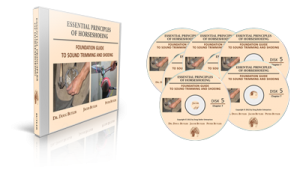 You will learn to:
See and create balance by trimming a horse's foot
Keep you and your horse safe when doing farrier work
Use farrier and forging tools to accurately shoe a horse
Recognize common problems with horse foot conformation
Effectively communicate with farriers, veterinarians, and other horsemen, so you can feel confident knowing your horse is always receiving the best care.
…and more!
Accelerate your learning now with using all three styles auditory, visual and kinesthetic with The Essential Principles of Horseshoeing book and corresponding audio CDs!!
Order Your Copy Today!



What others say…
"It's the best, easiest book I've ever read to illustrate to farriers what they need to "see" in their own minds.  Now with the Audio Book, they can ride down the road listening to it!  Yet there's nothing like having the book in your lap reading and looking over at the related picture that describes exactly what you've just read – plus the pictures are located so close to where it's written that you don't have to leap back 10 pages to find it!  Don't skip Chapters 1-5: many farriers would start with the later chapters and miss a great education in the first five chapters."
– Tom Parris, MD
"For the sake of every horse, people should buy, read, and reference this book."
– Kristi Hyllekve, Canada
"Great overview!  I like the forging tips.  It simplifies things a lot.  I like the color diagrams in the anatomy section.  You've simplified the Shoe Shapes and make it easier to understand.  It was worth the investment.  It's a good book!"
– Mike Isles, NY
"With your "paint by number" pictures, your anatomy teaching system jogs my memory!  I can remember which arteries and veins are which; which tendon attached this muscle to that bone.  The forging section pictures help me see 'If I hit here, the branch goes there'!  And the QR codes that take you to Internet videos are just 'Awesome'"!                                                                                                                                                                         
– Jason Perez, CO
"Thank you for Essential Principles of Horseshoeing. This is a useful book where it is short and clear stated main principles of horseshoeing not as only a craft but as business and life style. Old Russian proverb says "Repetition is mother of studies" (Повторение – мать учения). Thank you for the book"
– Boris Riaschenko, Russia                                                                                                                                                            
"It's like a traveling textbook to carry in my truck!  I've picked it up, found a subject I was thinking about or had a question about, and quickly read up on that particular subject.  It's good to remind me of everything you present in a concise way."
– Aaron Phillips, KS                                                                                                                      
"Upon receiving my copy I started going through the pages and could not put the book down.  This is an amazing text.  As I poured through the pages of this book, I felt like I was right back in Nebraska, attending Butler Professional Farrier School.  Everything you gentlemen taught my classmates and I was coming to life before my eyes, depicted clearly with succinct text, excellent color photos, diagrams, and of course video links.
Thank you for dedicating what must have been a monumental amount of time and effort in compiling this wonderful text.  It stands as yet another testament to the Butler commitment of excellence in Farrier education!
The addition of "Essential Principles of Horseshoeing" to my personal library is a valuable tool in my continuing education and the success of my growing Farrier business."
– Scott Hunter, PA                                                          
"I like the whole idea of the Essential Principles of Horseshoeing. It is very nice to see horsemanship skills included. I believe that those who watch the online video should pay close attention to necessary horsemanship skills. The problem is today it's hard to connect with people and get their attention – even if they have the information they need, they often lack the skill to apply it at the correct time or in the proper manner.  I have told all the farriers I can about E.P. of H.  Good luck!"
– Todd Andrews, PA                                                                                              
"Essential Principles" is a wonderful addition to any farrier library.  It is "essential" as a carry along for veterinarians to assist them in client communication. The many photos and drawings and ease of finding the right information for the situation will greatly enhance a veterinarian's ability to communicate with owners and farriers—good communication leads to a better outcome for the horse ALWAYS.  Horse owners can benefit immensely by using this textbook to become better educated consumers of both veterinary and farrier advice and services.  Again the big winner is ultimately THE HORSE.  And that is always the goal. Congratulations on another fine addition to the effort of improving the hoof care and lives of horses."
– Allie Hayes, MA             
"It's good to carry with me to get a quick reference.  It brings back what I learned in school. I like the new pictures, especially the drawings that have color-coded, different parts.  It helps me to be able to grasp details in my mind again.  The book is excellent!  Matter of fact I've recommended it on my Facebook page!"
– Duane Sapp, GA
"Doug, I am a practicing farrier. Have been for 15 years. I am a graduate of [another horseshoeing school].  I am still reading the book and am enjoying all of the information in the book and getting back to the basics. Thanks."
– Dave R. Prouty, MN
"With the anatomy part, I'm able to show my clients different pictures to explain things and help them see what I'm seeing."
– Brenton Flohe, TX
"A well thought out, comprehensive guide that tackles topics often overlooked in standard texts.  You emphasize the vet-farrier team as an integral component in successful lameness treatment, with each recognizing and respecting the skills of the other.   Thank you for writing this book!"
– Courtney Diehl, DVM
"I just had the opportunity to read through Essential Principles of Horseshoeing. It does a fantastic job of illustrating the anatomy of a horse's foot and how it functions. I never realized how important it is to accurately analyze a horse's foot in order to properly fit a shoe. The shoe forging section gave me a better understanding of how horseshoes are altered to fit the exact needs of the horse they are applied to. I find value in the people and business skills sections because being able to market yourself is as important as the farrier skills you have."
– Josh Carlsen, WA
"Thank you for all the helpful things you do for horses that allow them to be sound while performing in pleasure, sport and professional activities with their riders!"
– Lynn Wyman, CA
"At first, I didn't have a firm grasp of the XYZ concept. …  Now everything is not only perfectly clear but it really compliments what I already know.  I encourage you to keep teaching this to farriers and refine it so horse owners can learn, too.  It is going to be a classic."
– Steve Kraus, NY
"I've never seen the XYZ concept illustrated so well so that anyone could understand what you're talking about.  Essential Principles of Horseshoeing is just fantastic – I love the book!  A lot of times, we have a hard time visualizing what we're reading.  You have enough images in there – side by side –to make us understand it all.  It's very well illustrated.    I think for the farrier, this book has everything: it has the written word, the visual parts that are so important for all of us and now the audio book to listen to also. "
– Tom Parris, MD